Tying your shoes just got a lot faster and easier. In fact, forget the tying altogether. You're about to see how no-tie shoelaces will get you in and out of your shoes in seconds. One solution to avoid tying your shoes is to wear slip-ons. But depending on their fit and the activity you're doing, footwear without laces might be too loose.
Another option is to pre-tie and knot your shoes, effectively turning them into slip-ons. But that creates the same problem. It's hard to do a workout if your trainers keep slipping off. And what about folks who have limited mobility, or little kids who haven't mastered tying yet? Is the only answer to get shoes with Velcro closures?
Nope, there are cooler inventions waiting for you to discover. Let's review these innovative no-tie laces here.
 Zubits Magnetic closures
3 strength levels and sizes
Multiple colors
Make use of your current shoelaces
Adjustable
Probably the the easiest to "unlace"
Lock laces (elastic no tie shoe laces) (pack of 3)
Elastic ties replace your current laces
Locks make it simple and quick to adjust tension
Multiple colors
Hickies 1.0 no-tie shoelaces
Flexible rubber straps replace shoelaces
Multiple colors
Adjustable to "loose, regular, and tight"
1. Zubits – magnetic lacing solution – Never Tie Laces Again!
When you open the package, Zubits don't look all that sexy at first. They're simply plastic-covered neodymium magnets with three holes for your shoelaces. They really look kind of basic. But their simple appearance is deceptive. Like Clark Kent looks ordinary until he reveals himself to be Superman.
With Zubits, you don't need to get rid of those cool colored laces that came with your running shoes. You're going to need those original laces to secure the Zubits in place. The magnetic closure only covers the last three holes. Since you can buy the Zubits in a wide range of colors, you can pretty much match anything from dress shoes to work boots to cross trainers.
Besides color, you'll also need to select a size and strength level for your Zubits. If you're buying them for a child or a person with limited mobility, usually Level 1 is sufficient. Level 2 is great for teens and adults going about their normal activities, doing light exercise. Then Level 3 is designed to stay closed during high performance sports or under a lot of pressure.
How do Zubits function? First put on your shoes so you get the perfect fit. Then lace the closed pair of Zubits into your shoes. Use the clip to secure the end of the shoelaces out of sight.
Stand up and see how they feel. If your shoes are tight enough, step on one heel with the other toe and lift up your foot. Ta-da! The Zubits open like doors, breaking their magnetic seal and letting you remove your shoe.
Now put your foot back into the wide open shoe. Snap the Zubits together and you're done. All laced up and ready to go.
The only downside to Zubits is that they look a bit obvious on some shoes. But Zubits isn't the only no-tie shoelace on the market. Check out the elastic ties below.
2. Lock laces (elastic no tie shoe laces) (pack of 3)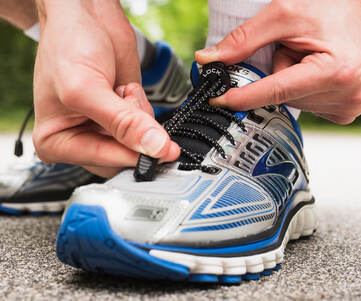 Instead of magnetic closures mounted on shoelaces, LOCK LACES replace your shoe strings with elastic pull cords. You can adjust them to be as tight or loose as you like each time you put on your shoes. Just press the lock and change the tension, then release the lock and you're set. The teeth lock the cord into place so you never have to re-tie your shoe during the day.
Each LOCK LACE is 48-inches long, enough even to lace up many boots and high tops. If you have a lot left over after you lace them through the eyelets of your shoes, you can trim them down to fit.
For best fit, LOCK LACE recommends lacing your shoes the first time while wearing them. And when you cut off the excess lace, leave a couple of inches for easy adjustments.
Some people prefer LOCK LACES to Zubits or Hickies (the no-tie laces we'll review below) because LOCK LACES blend in better with athletic shoes. In fact, you may have seen that some brands of outdoor shoes already employ a similar type of shoelace.
Oddly enough, few people seem to have complaints about LOCK LACES. They mostly mention that setting them up the first time is a little harder than they expected.
3. Hickies 1.0 no-tie shoelaces
Our next contender in the no-tie shoestring market are HICKIES. They are a set of 14 rubbery straps that are adjustable into loose, regular, and tight closure. Like the LOCK LACES, you can pull out your old shoelaces and replace them completely with HICKIES.
HICKIES says "one size fits all" when it comes to these colorful little straps. They aren't like Zubits where you'll need to select a size and strength level. And although they look thin and flexible, users are reporting success when using HICKIES for running and other active sports.
It's not too hard to set up your shoes if you follow the pictorial instructions or watch the video. Start by threading one strap through each set of eyelets on your shoes. You can make them as tight or loose as you wish. Once you're done, you'll never have to tie those lace-up shoes ever again.
The HICKIES straps come in a wide variety of colors. You can use different shades for each eyelet, or stick to a simple white or black all the way up the shoe. The main downside is that HICKIES aren't the best choice for tall basketball shoes or boots unless you want to undo the top ones to put on your footwear.
Conclusion
With so many choices for no-tie shoelaces, we wonder when the shoe manufacturers will begin offering fewer lace-ups and more options like these. Zubits, LOCK LACES, and HICKIES all have their loyal fan followings, so it's hard to recommend one brand above another. It really comes down to your personal feelings for style, color, and ease of setup and use. One thing is sure—you won't be bending down to tie a new knot anytime soon after you try one of these innovations. Visit us again soon to see the latest gadgets of the future.